Rochester has been spotlighted!
It's no secret that Rochester has much to offer for music-lovers, and now our community has been featured by "Spotlight on the City" a podcast from BTRToday.com.
BTRtoday is the world's best source for indie-lifestyle. This multi-media platform offers podcasts, videos, and articles with a focus on independent music and news.
The two-hour long program features all local musicians hailing from Rochester. With a long history of music appreciation and cultivation, it's no surprise that the show's producers found an abundance of local musical talent.
The show's producer and host, Lottie Leymarie, discovered for herself what a musical gem Rochester is. Lonnie writes: "I wanted to check out Rochester because knew I would discover some really unique music. I have featured other upstate cities before, including Ithaca and Syracuse. I love seeing how they have such tight knit artistic communities who are very supportive of each other. Rochester didn't let me down, there are some amazing musicians from the city and I really enjoyed producing the show!"
Music is in the air in Rochester
Learn more about some of the organizations who are responsible for keeping Rochester in tune all year round.
Record Archive: Record Archive, music and entertainment destination in Rochester since 1975, is a must-visit for any music lovers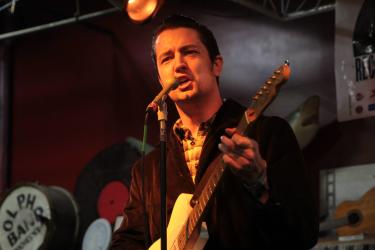 visiting the ROC.
This weekend Record Archive will again celebrate Record Store Day (Saturday, April 16) with twelve hours of non-stop shopping and entertainment. Exclusive vinyl releases, live music, food trucks and a custom craft beer brewed from Rohrbach's!
Eastman School of Music: Music is always in the air in Rochester's East End thanks to the Eastman School of Music. The Eastman School is one of the world's major centers for the study of music and for the training of professional musicians and music teachers.
Live Music: Catch an up and coming performers or a local fan favorite at one of Rochester's many live music venues. Popular venues include: Abilene Bar & Lounge, Dinosaur Bar-B-Que, Horizons Lounge at the Woodcliff Hotel & Spa, Lovin' Cup and the House of Guitars.
Xerox Rochester International Jazz Festival: Music takes over our city streets every June for 9 days of performances by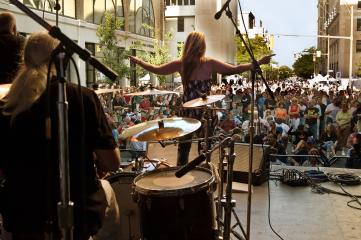 world-class musicians. Insider tip: with more than 50 performances scheduled for the 2016 festival, there is sure to be a performance to suit your musical tastes. Or, as Jazz Fest producer Marc Iacona says, "it's not who you know… it's who you don't know." Headliners for the 2016 festival include Grace Potter, Chris Botti and Bruce Hornsby and The Noisemakers. For more information, visit: http://rochesterjazz.com/
Our thanks to the team at BTRadio for shining a bright spotlight on Rochester and our city's incredibly talented local music scene. Happy listening!