Election Day 2020 in Rochester, NY. Credit: John Kucko 
Election Day 2020 has special significance to the Rochester area, as our community is the proud home of suffragist Susan B. Anthony and abolitionist Frederick Douglass, both of whom worked tirelessly to bring the right to vote to disenfranchised citizens. In what has become an Election Day tradition, thousands of visitors and voters are expected to pass through Rochester's Mount Hope Cemetery, the final resting place of both Anthony and Douglass, to place their "I VOTED" stickers on the gravestone of Susan B. Anthony.
2020 is an especially fitting year to honor the work of suffragist Susan B. Anthony as it marks the 100th anniversary of women gaining the right to vote, though it is important to note that full suffrage was not fully realized until the Voting Rights Act of 1965 was passed. 2020 also marks the 200th birthday of Susan B. Anthony, so there is cause to celebrate the life and legacy of one of Rochester's most famous citizens.
Plan ahead for a visit to Mount Hope Cemetery, and read on for other ways to honor the legacies of Susan B. Anthony and Frederick Douglass in Rochester. And remember to VOTE!
Mount Hope Cemetery
The gates of the cemetery will be open 8 a.m. – 9 p.m. The gates will close at 9 p.m., but if you are in line you will still be able to visit the gravestone.

Masks required, social distancing will be enforced and sanitizer stations will be available.

New for 2020: Plexiglass installed over the gravestones of Susan B. Anthony and her sister, Mary, to protect the historic stones from the adhesive of the "I VOTED" stickers.
Other popular stops for Election Day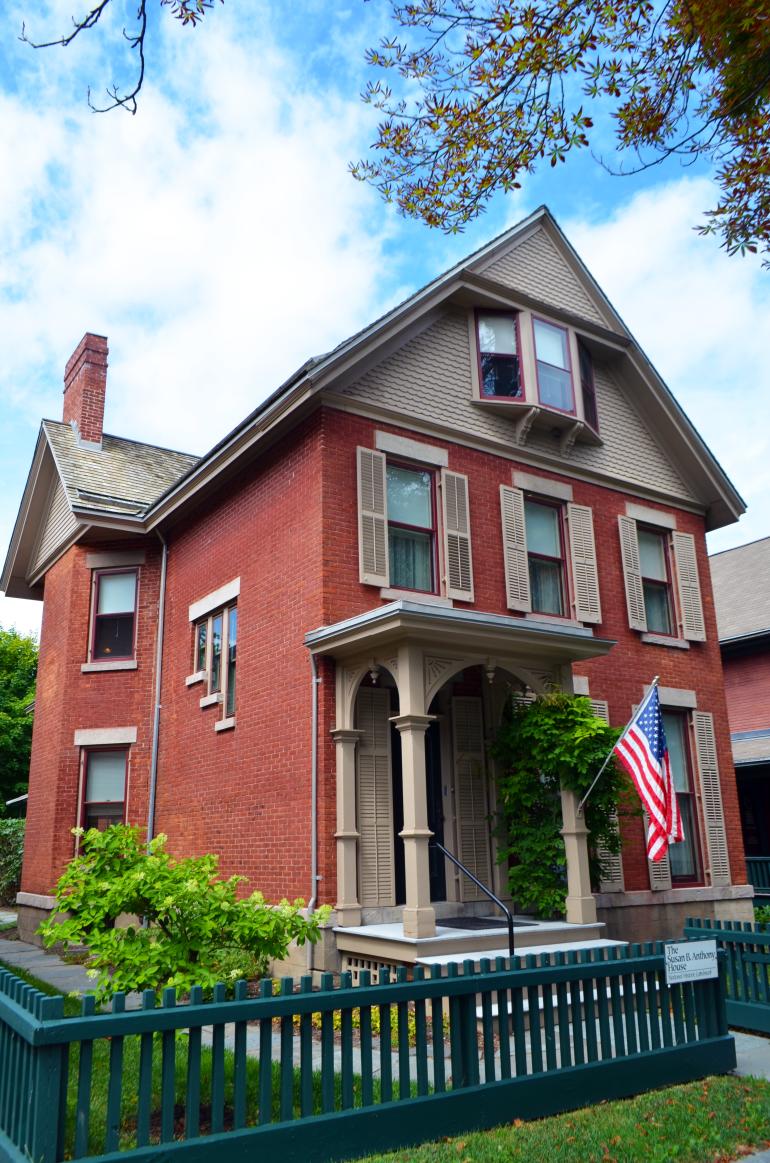 National Susan B. Anthony House & Museum – Rochester's first National Historic Landmark, this house was home to the legendary suffragist, abolitionist and civil rights leader during her 40 most politically active years. She served as president of the National American Woman Suffrage Association from her home on Madison Street. It was a hub for planning strategies, organizing campaigns, writing speeches, and preparing petitions.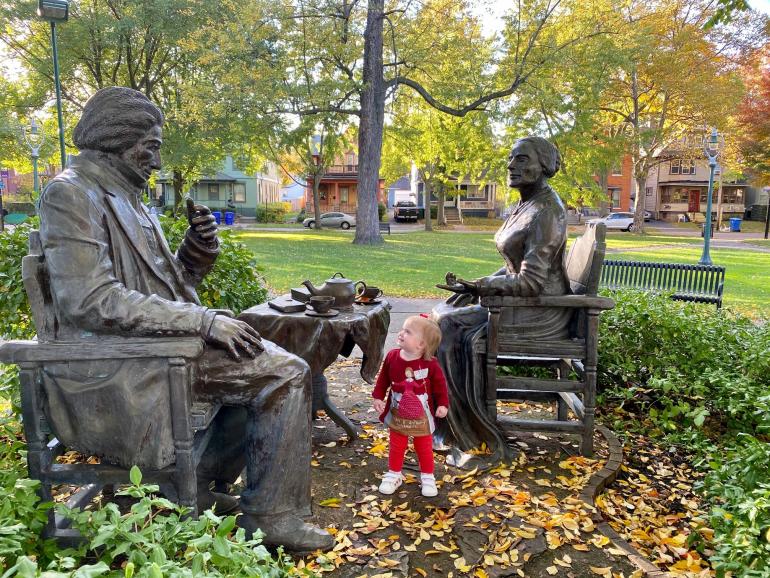 Let's Have Tea Statue - Stop and see the Let's Have Tea statue in Susan B. Anthony Square. The statue depicts famous friends Susan B. Anthony and Frederick Douglass engaged in conversation while sharing tea.

1872 Monument –  A bronze ballot box stands at the site where Susan B. Anthony voted illegally, alongside 12 other woman, in 1872. Learn more from Atlas Obscura. 

1872 Café – Located at the same site as the bronze ballot box is the 1872 café. The space that today is a café was the location of the polling place where Anthony voted in 1872. The interior of the café is adorned with paintings of famous women throughout history who could be considered "rule breakers" for their time.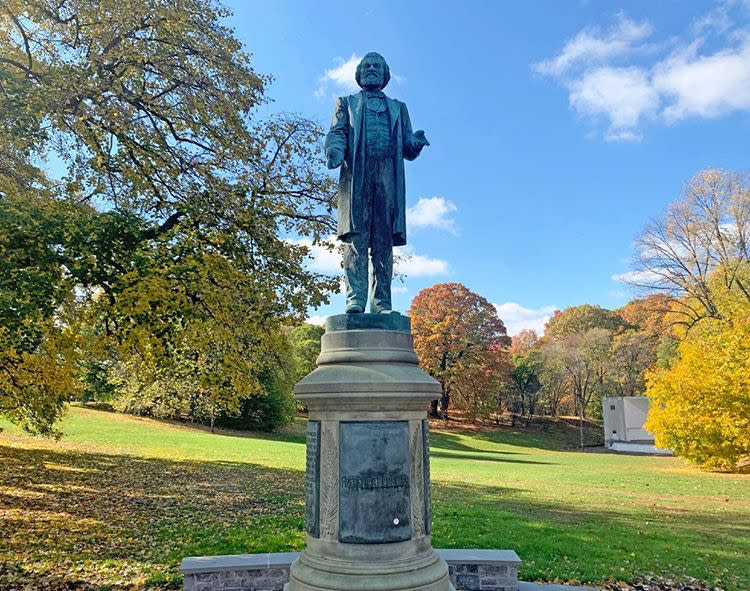 Credit: Quajay Donnell 
Frederick Douglass Statue in Highland Park - Visit the Frederick Douglass Monument in Highland Park, an eight-foot likeness of the great advocate for freedom and women's rights. Did you know: This statue was the first to be built in the U.S. in honor of an African-American person.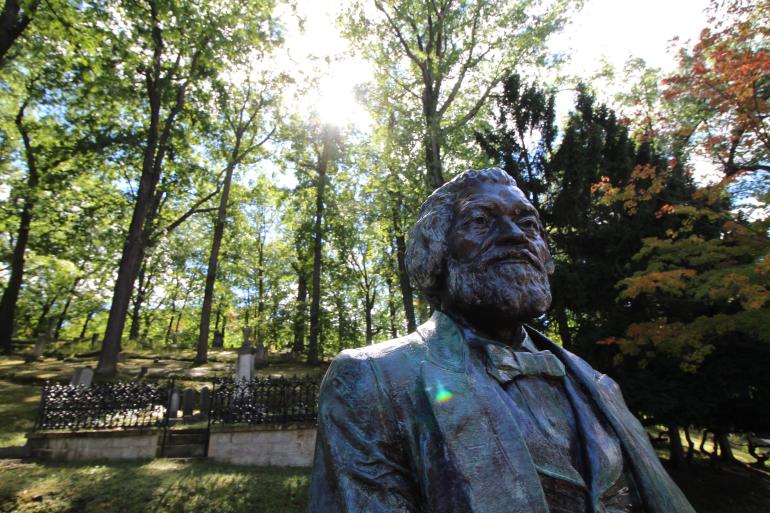 Frederick Douglass replica statues, varied locations – The Douglass statue also inspired one of Rochester's most prominent public art projects in the past several years. In 2018, thirteen replica statues of the Frederick Douglass Monument were built and installed in locations around Rochester that were significant to Douglass's life. Each statue installation includes a QR code that when scanned brings viewers to a website with more information on the significance of the site and the Douglass legacy. The website also includes a map leading viewers to the other Douglass statues. A state is even on display near the main entrance of Mount Hope Cemetery (pictured) so you can see the statue when you visit the cemetery on Election Day. 
For more ideas and places to commemorate 100 years of women's suffrage, check out our Women's Rights Trip Ideas here.