The Erie Canal – I've run beside it, biked beside it, kayaked through it, even sung about it, but in all my years in Rochester I had never taken a Sam Patch boat tour or gone through one of its famous locks.  My kids had ridden the Sam Patch on school field trips, and my wife had taken her mother on a cruise, but I definitely had a gap in my Rochester experience.  That gap was recently filled when my family took me on my first ever Erie Canal cruise aboard the Sam Patch.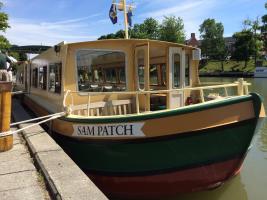 You could not have asked for better weather – sunny and warm, with an idyllic summer breeze blowing across the water made for a perfect day for cruising.  Captain Bob welcomed everyone on board, and introduced us to Wyatt, his first mate.  We departed Schoen Place promptly at 2:00pm, and sailed west towards Lock 32.  Along the way Wyatt shared stories about the canal's nearly 200-year history and the boats that traveled through it – the Sam Patch is a replica packet boat (meant for carrying people not freight).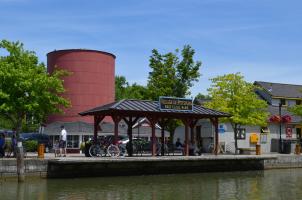 An amazing feat of engineering (or shear hard work and stubbornness), the Erie Canal was built in the early 19th century without any technology – not even dynamite was around when they originally created this waterway.  Remembering the effort it took to bury our dog's invisible fence, I can't image setting out to dig a water way across the state of New York with only picks and shovels.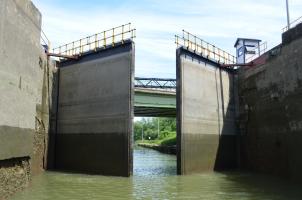 Captain Bob steered the Sam Patch into Lock 32, and the 40-foot-high metal doors ominously clanged shut behind us.  We waited as nearly 3 million gallons of water raised our boat 25 feet to the top before exiting the other side.  I marveled at how much history and time has passed through this channel, and it was fascinating to get the chance to experience it myself.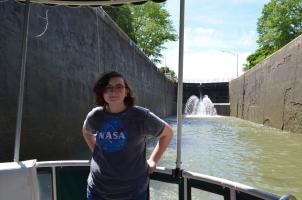 Captain Bob turned the ship around, and we headed back towards Pittsford while Wyatt shared more stories of Sam Patch, the local folk hero who jumped (or fell) to his death off Rochester's High Falls.  We relaxed during the remaining ride and waved at the kayakers, fishermen, bikers, and walkers along the canal trail.  We enjoyed the natural splendor around us spotting a family of ducklings and gaggle of geese bobbing in the water.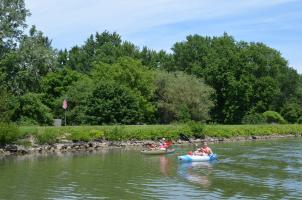 Our ride aboard the Sam Patch ended back at the Pittsford dock where we started, and, at that point, there was only one thing left for our family to do –get ice cream!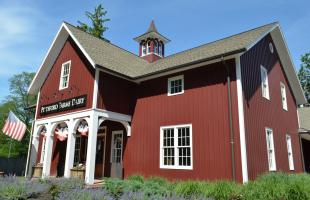 The Sam Patch boat tour is a Rochester institution, and something everyone should do at least once.  In addition to the typical 90-minute tour, there are a number of specialty cruises throughout the year such as Rochester history cruises on the Genesee River, wine tastings, and 4th of July fireworks viewings.