July 20, 2019 marks the 50th anniversary of Apollo 11's monumental moon landing in 1969. We've rounded up some of the events and exhibits celebrating the lunar landing anniversary that you can enjoy when you visit Rochester this summer.
ROCHESTER MUSEUM & SCIENCE CENTER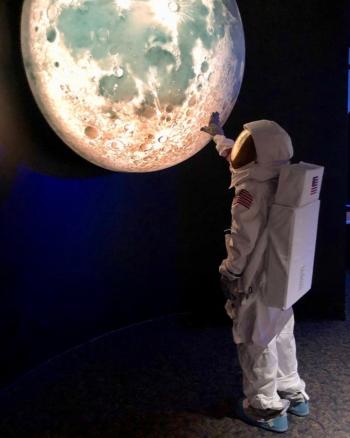 Eagle Has Landed (Strasenburgh Planetarium show)
Through August 30, 2019
Board the Apollo 11 lunar module for a re-creation of the Moon landing at the new Planetarium show, Eagle Has Landed. Using the latest NASA data, we'll visit the Sea of Tranquility, spectacular landing sites from various Apollo missions, and sites that were selected but never visited. For the climax of the show, we will put you inside the Apollo 11 Lunar Module—Eagle—for an immersive re-creation of the heart-pumping 13 minutes of powered descent to the Moon. Looking out the windows, you'll see what the astronauts saw; listen to a synchronized recording of the tense conversations between the astronauts and Mission Control; and hear Flight Director Gene Kranz and his team of young controllers monitor Eagle's dwindling fuel supply and handle last-minute alarms from the guidance computer. 
Lunar Liftoff
Tuesday, July 16-Saturday, July 20
Celebrate the 5oth anniversary of the Moon launch and landing with 50 different hands-on activities over five days commemorating the actual launch and landing dates.
Explore a full-scale lunar module and imagine your own journey at daily rocket launches and demos—water rockets, pneumatic rockets, methanol rockets, and more. Build a mini-module, watch video of the launch and landing in a replica 1969 living room, discover 50 ways to celebrate the Moon mission, and more—there's something new every day!
DAILY ACTIVITIES:  
Rocket Launches: Gather on the RMSC Café patio daily to watch and/or take part in our daily rocket launches. We've got all the bases covered with everything from water and stomp rockets to Alka Seltzer and pneumatic rockets.

Build a lunar module: Get creative and make a marshmallow and toothpick lunar module.

Make a space helmet: Do you want to be a spaceman? Create your own astronaut helmet and soar into space.

Crater exploration: A hands-on experiment showing how craters form and what we can learn about the history of the moon from them.

Hide & Seek Moon: A close-up of how scientists study objects on the moon that will show us how cultures around the world have viewed the Moon.

Rocket Reactions: Learn how materials interact and behave with this explosive activity.

Take a virtual trip:  Explore the surface of Mars and try your hand at driving a Mars rover with our Oculus Go VR headset in the Science on a Sphere (Why Mars when we're celebrating the Moon? NASA's next moon mission will be a jumping off-point to head to Mars. The Moon provides an opportunity to demonstrate new technologies that could help build self-sustaining outposts off Earth.)

Astronaut mascot sighting: Meet our astronaut mascot daily between 1:30–3:30pm (11am–3pm on Saturday) and snap a photo! Tag #rmscexploremore for a chance to win prizes.

1960's Living Room: Lounge in a 60's style living room and relive (or live for the first time) the Apollo Moon landing with live footage on our retro TV.

Backyard Lunar Lander:  The Eagle has landed…at the RMSC! Come see a half-scale version of the Lunar Lander created by Rochesterian Barry Nobles  (Tuesday and Saturday only).
GEORGE EASTMAN MUSEUM

History of Photography: Moon and Moonlight
May 3–October 20, 2019
"That's one small step for man, one giant leap for mankind." Celebrating the fiftieth anniversary of the Apollo 11 moon landing on July 20, 1969, this installation in the History of Photography Gallery examines the intersecting histories of photography and space exploration. A source of artistic inspiration, scientific inquiry, and popular fascination, the moon has long been an important subject of visual culture since before the invention of photography. This selection of objects from the photography collection ranges from stereoscopic views made through a telescope, amateur snapshots, and scientific documents to artworks by Louis-Jacques-Mandé Daguerre, Ansel Adams, László Moholy-Nagy, and Linda Connor, among others.
 
MEMORIAL ART GALLERY

1969 Turns 50
Through July 28, 2019
This exhibition showcases diverse works of art linked by the year of their creation, 1969. That year bore witness to some of the most transformative events in modern history, including the first moon landing, the escalation of the Vietnam War and resulting protests, the election of Richard Nixon to the U.S. Presidency, Woodstock and "Abbey Road," the Stonewall Riots, and the Soviet takeover of Czechoslovakia. Some works are abstractions, some documentation; others are somewhere in between. 1969 Turns 50 is a new way of looking at the work of a wide variety of artists from a distinctive moment in history.