Plan Your Trip to Rochester for the 2019 KitchenAid Senior PGA Championship 
The most prestigious championship in professional golf returns to Rochester, NY when the 80th Senior PGA Championship takes place at Oak Hill Country Club's historic East Course May 21-26. This will be the second time the Senior PGA Championship has been contested in Rochester at Oak Hill. Oak Hill has also played host to the PGA Championship (2013) and the Ryder Cup (1995). The PGA Championship will also return to Oak Hill in 2023.
To help you prepare for your visit to Rochester for the Senior PGA Championship, we have all your need-to-know information on tickets to the championship, where to stay, where to eat, and what to see and do while you're in town for the Championship!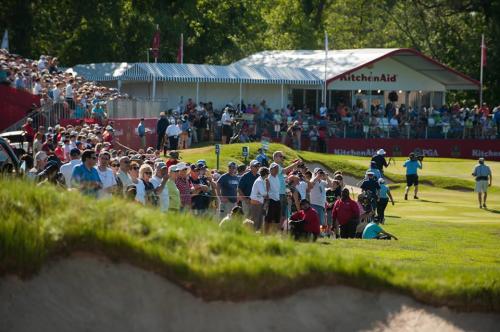 SENIOR PGA CHAMPIONSHIP TICKETS
Tickets are still available for the 2019 KitchenAid Senior PGA Championship. Tickets can be purchased on the PGA website here. Guests under the age of 17 are free, when accompanied by a ticketed adult. In addition, the Championship will offer Active Duty, Retirees, Veterans, Reserve, National Guard and their accompanying guest (limit one) complimentary daily grounds access to the Championship.
For more information on the 2019 Senior PGA Championship, view the official Championship Spectator Guide. 

WHERE TO STAY
In Rochester you will find welcoming hotels and charming bed and breakfasts that will fit any budget all within easy access to the course. Find a wide variety of lodging options by searching our full list of area hotels and B&B's. Many of the hotels in Monroe County are no more than 15 minute drive to the course and parking locations.
Find a full list of area hotels and B&B's.
WHAT TO SEE & DO
Extend your stay in the Rochester and Finger Lakes region to take advantage of all the attractions we have to offer. Here are just a few suggestions to add to your visit.
Family-Fun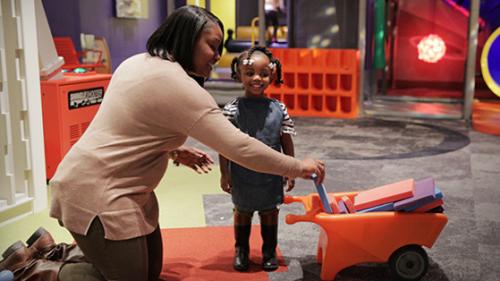 The Strong National Museum of Play
The ultimate play destination for all ages! The Strong is the only museum dedicated to the discover of all things play, housing the largest collection of toys, dolls and games in the world. The Strong is also home to the National Toy Hall of Fame and the World Video Game Hall of Fame.
Rochester Museum & Science Center
Hands-on educational fun for the entire family, exploring science and technology, the natural environment, and our region's cultural heritage, at the RMSC Museum, Strasenburgh Planetarium and Cumming Nature Center.
Seneca Park Zoo
Be transported around the world as you come face to face with African elephants, African lions, a southern white rhino, an Amur tiger, giraffes, red pandas, North American river otters, California sea lions, and more.
Genesee Country Village & Museum
Take a step back in time and visit the largest living history museum in New York State.
Arts, Culture and History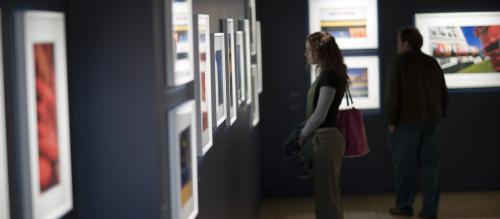 George Eastman Museum
Visit the oldest photography museum in the world, housed within the stunning estate of Kodak founder and pioneer of modern photography, George Eastman. 
Memorial Art Gallery
This art museum features 5,000 years of artwork from around the world, including Monet, Rembrandt, and O'Keefe as well as contemporaries such as Kehinde Wiley and Mickalene Thomas.
National Susan B. Anthony Museum & House
Come and see the place Susan B. Anthony called home during the most politically active period of her life. Stand in the front parlor where she was arrested for voting in 1872. Experience her amazing story of courage and determination at this National Historic Landmark.
ArtisanWorks
A living art space of over 40,000 square feet in a renovated factory with nearly 500,000 pieces of artwork, antiques, automobiles and memorabilia.
Naturally Rochester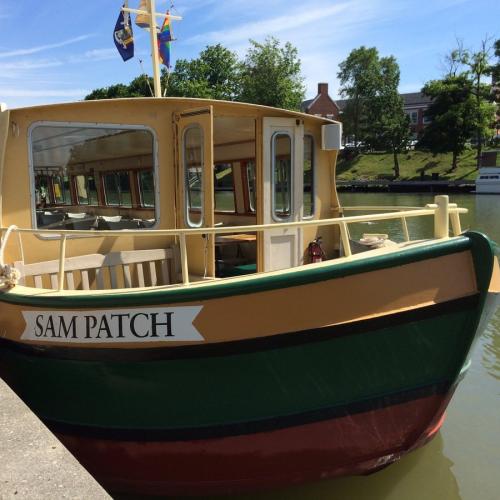 Erie Canal Tour with Colonial Belle or Sam Patch
The Erie Canal is a floating history lesson! Enjoy the wonders of this 200-year-old engineering marvel by boat. The Colonial Belle will be offering special rates for visitors to the Senior PGA. Call (585) 223-9470 for tickets and more details.
High Falls
A 96-foot-tall waterfall in the center of the City of the Rochester
Lake Ontario Waterfront
Rochester's lakeside neighborhood, Charlotte, features a beachfront park, a historic carousel, a number of dining and entertainment options and the original location for a Rochester institution, Abbott's Frozen Custard.
Craft Beverages & Brews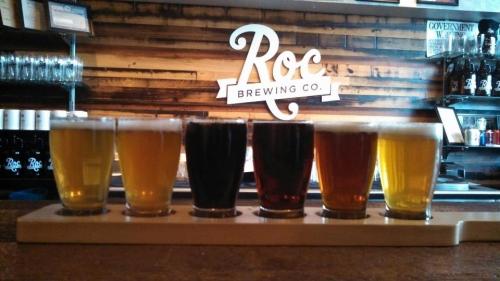 Rochester and Monroe County are now home to more than two dozen craft breweries, distilleries and wineries. Local favorites include the Genesee Brewery & Brew House, Rohrbach Brewing, ROC Brewing, Black Button Distilling, Iron Smoke Distilling, Casa Larga Vineyards & Living Roots Winery (the first urban winery in the Finger Lakes). Plan a tour (transportation included!) with Crush Beer & Wine Tours or TourROC. Looking for some food to go along with the brews? Consider a Flower City Food Tour.
WHAT TO EAT
Whether you are looking for a casual dinner or fine dining, you will find delicious delectables suitable for every palate. It's not hard to find a fabulous restaurant in Rochester. Check out spots nearby Oak Hill, including Next Door Bar & Grill, Erie Grill, Max of Eastman Place, Grinnell's Restaurant, Pane Vino, Char Steak & Lounge, Branca Midtown, Morton's Steakhouse, Restaurant Good Luck, Veneto Wood-Fired Pizza and Pasta, City Grill or Radio Social. Enjoy good food and brews at Genesee Brew House, Dinosaur Bar-B-Que and Jeremiah's Tavern (multiple locations). Enjoy a sweet treat at local chocolatiers like Stever's, Hedonist Artisan Chocolate + Ice Cream and Laughing Gull Chocolates. Visitors in town for the Senior PGA can enjoy 10% off of chocolate goods or a workshop class at Laughing Gull with presentation of tickets. 
See more Rochester restaurants. 
PLAY LIKE a PRO! TOP SPOTS FOR GOLF IN ROCHESTER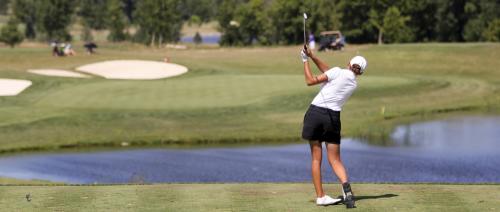 The Greater Rochester area is home to more than 60 public and semi-private golf courses, and the city has been named a top destination for golf in the U.S. Here are just a few places to schedule your tee time so you can play like a pro when you visit Rochester for the Senior PGA Championship.
Ravenwood Golf Club, 929 Lynaugh Rd, Victor, NY 14564
Deerfield Golf & Country Club, 100 Craig Hill Drive, Brockport, NY 14420
Eagle Vale Golf Course, 4344 Nine Mile Point Road, Fairport, NY 14450
Mill Creek Golf Club, 128 Cedars Ave, Churchville, NY 14428
The Links at Greystone, 1400 Atlantic Ave, Walworth, NY 14568
Durand Eastman Golf Course, located within Durand Eastman Park, 1200 Kings Hwy N, Rochester, NY 14617
Genesee Valley Golf Course, located within Genesee Valley Park, 1000 E River Rd, Rochester, NY 14623​ 
Discover more courses or book a package through the Finger Lakes Golf Trail and New York Golf Trail. 
THE 19TH HOLE. 10 SPOTS TO VISIT AFTER THE SENIOR PGA CHAMPIONSHIP. 
Looking for a hot spot to grab a cocktail, brew or glass of wine after a day on the course? Don't miss out on these local favorites.
1. Visit Restaurant Good Luck, named one of the ten best bars in America by Esquire.
2. Enjoy the rooftop views of Rochester at Hatties at the Strathallan.
3. Strike up a conversation with a bartender while sipping on a cocktail at The Revelry
4. Sip a glass of wine alongside the Erie Canal at Via Girasole Wine Bar. Via Girasole will be offering 20% between 4-6 every day of the Championship. Catch live music at the wine bar Thursday Friday and Saturday from 7-10pm.
5. Experience a night out on Railroad Street in the Public Market district. Start with a spirits tasting at Black Button Distilling, walk next door to Rohrbach Brewing for a flight at Rochester's original craft brewery, then end with a margarita and some dinner at Bitter Honey.
6. Enjoy exclusive deals for the Senior PGA at Max of Eastman Place (complimentary glass of wine or dessert with Championship ticket) and Max's Chophouse (bar specials throughout the entire Championship week)
7. Grab a beer at one of downtown Rochester's many breweries, including Genesee Brew House, ROC Brewing, Three Heads Brewing and many others.
8. Visit a winery. Grab a glass or a flight at Casa Larga Vineyards (Fairport) or Living Roots Wine & Co (Rochester).
9. Catch live music and the some of the best barbeque in town at Dinosaur BBQ, alongside the Genesee River in downtown Rochester.
10. Roll with your friends at Radio Social, a bowling alley, restaurant, bar, music venue, and social club located in Rochester's historic Stromberg-Carlson warehouse.
We hope you enjoy your visit and plan future golf trips in the Rochester and Finger Lakes region. Share your adventures with us on Facebook, Twitter, and Instagram with #VisitROC