Area Waterways
Rochester's Wonderful Waterways Offer Leisure Opportunities!
Rochester's magnificent waterways are among its top attractions for visitors. Happily, there is also an abundant number of ways to enjoy the natural beauty, as well as recreational and sporting opportunities, offered by these natural resources. From the charm and history of the Erie Canal to the power of the Genesee River and its waterfalls...from impressive Lake Ontario to hundreds of smaller lakes, streams, creeks, and ponds...the Rochester area offers watery treasures everywhere!
These appealing waterways can easily be enjoyed from the shore as well with many restaurants and some lodging facilities offering great water views from sunrise to sunset. For those who prefer viewing landscapes from on the water, there are cruise ships, fishing charters, and rental boats ready to board.
The Erie Canal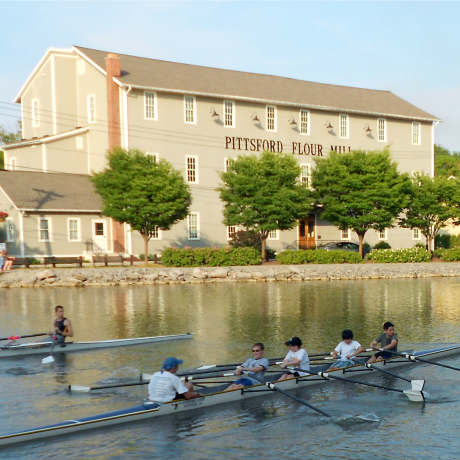 The historic Erie Canal, which was originally carried over the Genesee River by means of a stone aqueduct, today flows directly into the river at Genesee Valley Park. Cruising on it, hiking along it, dining beside it, and even singing about it are just a few of the pleasures offered by this famous man-made channel of water. History lovers also enjoy treks to see the remains of old Erie Canal locks that are no longer in use but recall the glory of its yesterdays.
Rochester is the third largest city in New York State today, but it was the construction of the Erie Canal that turned Rochesterville into an American "boom town." That very first Erie Canal also traveled through the center of the city across an 800-foot stone aqueduct hailed as the longest in the world at that time. Visitors can still see the second, sturdier version of that feat--built in 1842 to replace the original aqueduct--it continues to stand as the base of Rochester's Broad Street Bridge. A replica canal packet boat, the "Sam Patch," gives tours from the city's Corn Hill Marina, which is also near the historic Campbell-Whittlesey House, built by a wealthy Erie Canal merchant. Tours of the house and its neighborhood can be arranged as well.
"The Best 100 Miles of the Erie Canal" are found in the connecting counties of Monroe, Wayne, and Orleans. Here the famous waterway winds through 14 towns and villages in addition to the city of Rochester.
Groups can visit sites that have survived unchanged and savor a slower pace while traveling through beautiful rural vistas, browsing at picturesque farmers' markets, shopping in charming boutiques, or mingling with residents at old-fashioned canalside festivals.
Today, 170 years after it was first created, the Erie Canal continues to offer a variety of activities both on and along its waters. Tour boats provide narrated cruises, many with meals; rental boats let visitors navigate for themselves; canoes, kayaks, even rowing teams regularly ply its calm waters. Fishing is another popular pastime, as is feeding families of ducks, and watching for the graceful glides of blue herons.
Biking, hiking, skating, and jogging routinely take place on the Erie Canal Heritage Trail. Clusters of charming shops, restaurants to sample, and plenty of parks for outdoor picnics are found along its route. Also captivating are the canal locks, where people gather to watch a procession of boats rise and fall to the rhythm of carefully controlled waters.
There are even Erie Canal experiences for every time of the year: spring is a floral wonderland along its path, summer brings lively canalside festivals, and viewing fall foliage is an annual delight. During winter months, although the channel is empty, cross-country skiers and cold-weather hikers use its silent pathways.
The Genesee River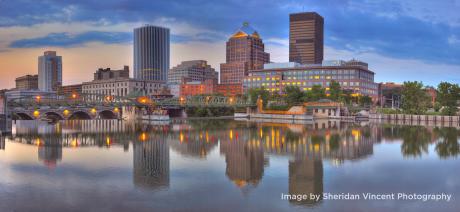 The Genesee River is a waterway of many moods as it roars through the enormous gorge it carved into Letchworth State Park (known as "The Grand Canyon of the East"), swirls past rural farmlands, flows beside a university campus and into the City of Rochester, where it tumbles over three waterfalls on its way to Lake Ontario. This river not only provides whitewater rafting, boating, and fishing fun but creates the 96-foot High Falls
High Falls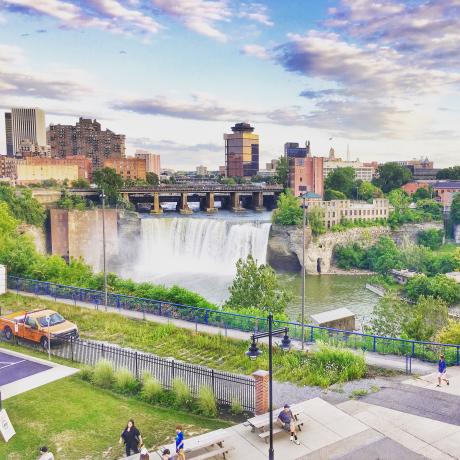 Rochester's 96-foot "metropolitan" waterfall, the largest to be found in the heart of any major city, has been an attraction for visitors since the 1800s when people traveled to see what was then a magnificent waterfall in the wilderness. Today, this visitor attraction from the past is once again a popular destination with travelers.
The area now known as High Falls in the Brown's Race Historic District is one of fourteen Urban Cultural Parks in New York State. It is a unique development which includes a museum cultural experience created in a circa 1873 Waterworks Building the Center at High Falls. Open throughout the year, the Center at High Falls features interactive, hands-on exhibits and displays that introduce visitors to Rochester's remarkable geographic and technological heritage in exciting and entertaining new ways.
But that's not all! Visitors can easily envision the past as they walk down a street of 18th- to 20th-century structures and peer into the open raceway of running water like those which once diverted water from the river to turn early mill wheels.
Brown's Race Market includes a restaurant with both indoor and outdoor seating plus balconies for great views of the river gorge. Completing the area is Triphammer Forge, the archaeological site of an early iron forge with a multi-level, excavated view of 1816 factory ruins and its 30-foot restored water wheel.
A small park at one end of the Pont de Rennes pedestrian bridge gives visitors a scenic place to rest, while the bridge itself provides great views of both the gorge and the waterfall. The bridge and balconies also serve as viewing areas for a state-of-the-art laser, sound and light show projected on the "screen" of the gorge wall. This free spectacle includes dancing, laser light action, fireworks, and theatrical lighting of High Falls set to music from mid-May through mid-October.
Lake Ontario & the Seaway Trail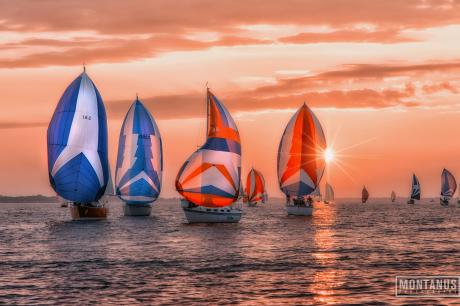 Lake Ontario is one of five fresh water lakes in America known as the "Great Lakes." It also boasts the best salmon fishing in the country and exciting boating. Its waterfront pleasures include a rare 1905 Dentzel menagerie carousel, extensive sandy beach, long piers, a wooden boardwalk with Victorian gazebos, a 1930's bathhouse, and well-used concert pavilion.
Dating from 1822, the nearby Charlotte/Genesee Lighthouse is one of the oldest on the Great Lakes and includes a mini-museum tracing the history of lighthouses, lake transportation, and the Genesee River. Tours of it are available with advance notice.
The Seaway Trail is the fresh water coastline that follows the Niagara River, Lake Ontario's shoreline, and the Saint Lawrence River. The longest scenic byway in the United States, it offers a magnificent array of activities and attractions from historic forts and museums to scenic parks and quaint villages. All kinds of water-related sports are also found along its route from swimming to boating to fishing.