Nik Entertainment Co. is a creative organization dedicated to the presentation of live music. Our bands travel the globe creating a fun-filled party environment by combining mainstream music with theatrics, choreography, costuming and comedy. Whether an elegant wedding, corporate event, fair/festival, or backyard barbecue, Nik supplies upbeat and engaging entertainment
Recurring weekly on Tuesday until February 27, 2018
Nik Entertainment's Karaoke and Business Networking!
When: Every Tuesday 9:45pm-2:00am
Where: Turcotts Taproom 630 Monroe Ave. Rochester, NY 14607
Meet and sing along with the Nik Gang!
more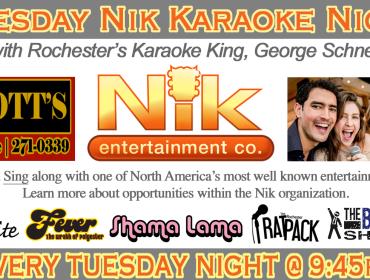 Recurring weekly on Tuesday until December 12, 2017
Tuesday Nik Karaoke takes place EVERY Tuesday! We encourage out of town visitors to attend!
more