The Agitators at Geva Depicts Rochester Icons Anthony and Douglass
Sunday, October 29, 2017 6:00 PM by Dawn Kellogg

Madeleine Lambert and Cedric Mays in The Agitators. All photos by Goat Factory Entertainment Media.
Rochester history comes to life on stage this season at Geva Theatre Center as Geva presents the world premiere of The Agitators: The Story of Susan B. Anthony and Frederick Douglass. Geva commissioned this play from playwright Matt Smart with support from The New York State Council on the Arts. The Agitator's is on stage now through Nov. 12. Tickets are available here.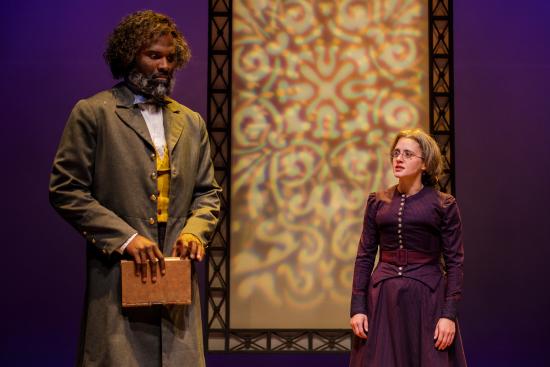 The Agitators tells of the enduring but tempestuous friendship of Susan B. Anthony and Frederick Douglass. Great allies? Yes. And at times, great adversaries. Young abolitionists when they met in Rochester in the 1840s, they were full of hopes, dreams and a common purpose.  As they grew to become the cultural icons we know today, their movements collided and their friendship was severely tested. This is the story of that 45-year friendship - from its beginning in Rochester, through a Civil War and to the highest halls of government. They agitated the nation, they agitated each other and, in doing so, they helped shape the Constitution and the course of American history.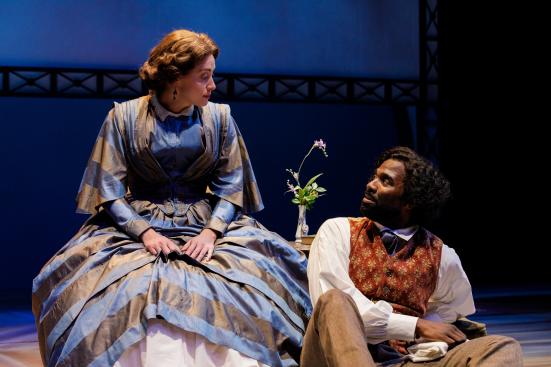 Playwright Mat Smart began his relationship with Geva Theatre Center during the 2007-2008 Season with a reading of Thomas Repair in the American Voices New Play Reading Series.  In 2013, when Mat Smart was in Rochester and at Geva preparing for a reading of his play, he went on a tour of the National Susan B. Anthony Museum & House. The docent mentioned that Susan B. Anthony and Frederick Douglass were life-long friends, but had a big disagreement over the 15th Amendment which gave black men the right to vote but not women. "I couldn't believe that I had never heard that Susan B. Anthony and Frederick Douglass were friends," said Mat.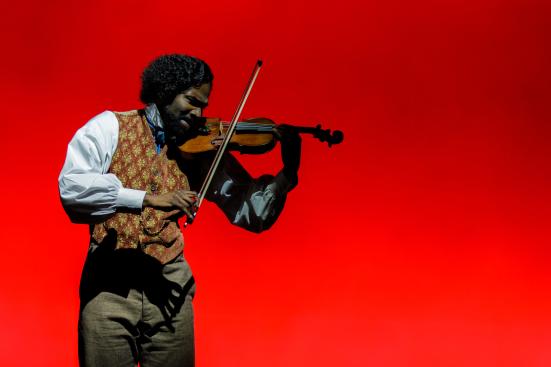 Down the street from the house is Pepsy Kettavong's beautiful statue "Let's Have Tea" which shows Susan and Frederick having tea and talking. "I was so moved by the familiarity that the statue invites – where kids can go up and climb on them and pretend to talk to them – that I wanted to investigate their friendship and write about it. We don't know what they said to each other behind closed doors, but we do know that they were often with each other, their families were friends, they were at the same conventions and meetings frequently throughout their lives."
Making their Geva debuts in The Agitators are Cedric Mays (What I Learned in Paris at Indiana Repertory Theatre, Fish Men at the Goodman Theatre, TV's "Chicago Code" and "Detroit 1-8-7") as Frederick Douglass and Madeleine Lambert (How I Learned to Drive at Cleveland Play House and TV's "Empire" and "Chicago PD") as Susan B. Anthony. The production is directed by acclaimed director Logan Vaughn. The play is the recipient of an Edgerton New Play Award.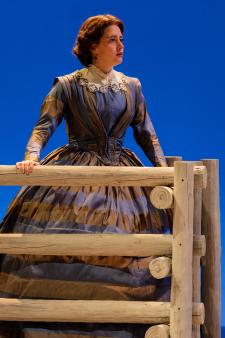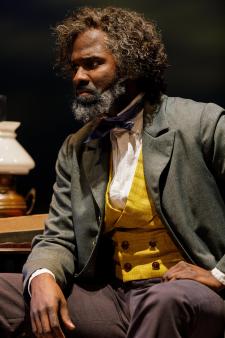 Audiences of both visitors and Rochesterians are not only loving this exploration into our local history, but discovering that our history is America's history.
Comments